Cycling Glasses with Polarized Lenses DPOL
List Price
Discounted price
€54,90
Unit price
per
Promo
Sold Out
Shippingone free starting from €100 (Valid only for Italy)
PAYMENTS ACCEPTED

In our online store, we offer a wide range of payment options to make your shopping convenient, safe and hassle-free. We are committed to ensuring a pleasant shopping experience for our customers, and to this end, we accept the following payment methods:

Credit and Debit Cards: We accept major credit and debit cards, including Visa, MasterCard, American Express and others. You can rest assured that your transactions will be safe and secure with advanced encryption technology.

PayPal: PayPal is one of the most trusted online payment platforms in the world. You can use your PayPal account to make payments quickly and securely.

It is also possible to select the new optionone PAYAPAL payment in 3 installments.

Klarna: Buy now, pay later at your favorite stores grazie Klarna. At the time of payment it is possible to divide the total purchase into three convenient installments.

Bank transfer: If you prefer to pay by bank transfer, we will provide you with all the banking information necessary to complete the transactionone. Remember that processing timesone may vary depending on your bank.

ATM Pay: ATM Pay is the digital service of the ATM circuit to make instant payments, transfersrimmoney and purchasing institutions – online and in store - simply, quickly and securely via smartphoneone.

Cash on delivery: We offer cash on delivery service, which means you can make payment directly to the courier upon delivery of your order. (€6,00 ​​will be charged for the cash on delivery service).

Satispay: Satispay it is one of the most used online payment platforms in Italy. You can use your account Satispay to make payments quickly and securely.

Apple Pay: Apple Pay is a mobile payment and digital wallet service developed by Apple Inc. It allows users to make payments in stores, within apps, and on websites using compatible Apple devices.

Google Pay: Google Pay is a mobile payment and digital wallet service developed by Google. It is designed to allow users to make payments securely and conveniently using their mobile devices, such as smartphonesone and smartwatch.

We ensure that all transactions occur securely and comply with data security standards. Additionally, we provide a simple and intuitive checkout process to make checkout a hassle-free experience.
SHIPMENTS AND RETURNS

SHIPPING

You ship itone it is free for amounts over €100,00
NB The standard shipping costone it is €6,90 (Express Courier)
For payment on delivery there is a €6,00 ​​cash on delivery service regardless of the amount.



All shipments to Italy are made via Express courier: UPS o SDA.
Shipping timesone depend on the geographical location of destinationone of the goods.
Generally all shipments to Italy are delivered within 24/48 hours from the time of shipmentone (excluding public holidays).

Every order received by 14.30pm is shipped the same day it is receivedone of the order. (Excluding orders with payment method: Bank Transfer, where you ship itone will take place after the payment has been credited)

For each shipmentone tracking code will be provided via email to be able to track the positionone of the package.

---

EASY EXCHANGE AND RETURN

1- You can contact us via the following channels to exercise the right to withdraw or exchange with another item: Site chat, Email Address: info@demonocchiali.it , By telephone on 0445/315537

2- Choose the formula for returning the package: You can choose whether to send the package to us independently with the courier you prefer, or at a cost of Euro 7,00 (rate valid for Italy, for foreign countries different rates will be applied based on the country) with GLS we provide collection service by appointment (Choose the day and morning/afternoon), it will be sufficient to close the box with adhesive tape and hand it over to the courier. (By agreement with the Bigline company)
* In case of product exchange, the redelivery will be €6,90 regardless of the amount of the product
**Excludedone of collections in: ZTL and Zone disadvantaged (where there will be a supplement)

3- Please wait for our receiptone for the rimbag (on the same day of receptionone, in case of return, it will be made on rimbag), or tell us the model and color with which you intend to exchange.

4- Wait for the return (in case of exchange) and have fun with the new glasses DEMON.

For more information on returns click here
HOW TO CONTACT US

Do you want to speak to one of our operators for more information or which product to choose based on your needs?

You can contact us in the way you prefer:

- By telephone: By calling the number 0445/315537
- Whatsapp: By writing to us at 0445/315537
- Instant chat: At the bottom of the page you will find the icon
PRODUCT INFORMATION
Prosthesisone UVs: UV400 (Maximum protectionone GRAPE e UV-B )
Frame Material: TR90 Ultralight
Weight: 21 grams
Frame Color: Matt Black Red - Glossy Black
Lens Type: Polarized lenses
Other: Adjustable nose pad
In Endowmentsone: Microfibre case
Sports: Cycling, Mountain Bike
Fit: Unisex (Man and Woman)
Dimensions: Width: 142mm; Height: 43mm - Rod Length: 119mm; Lens base: 8
Visualize complete details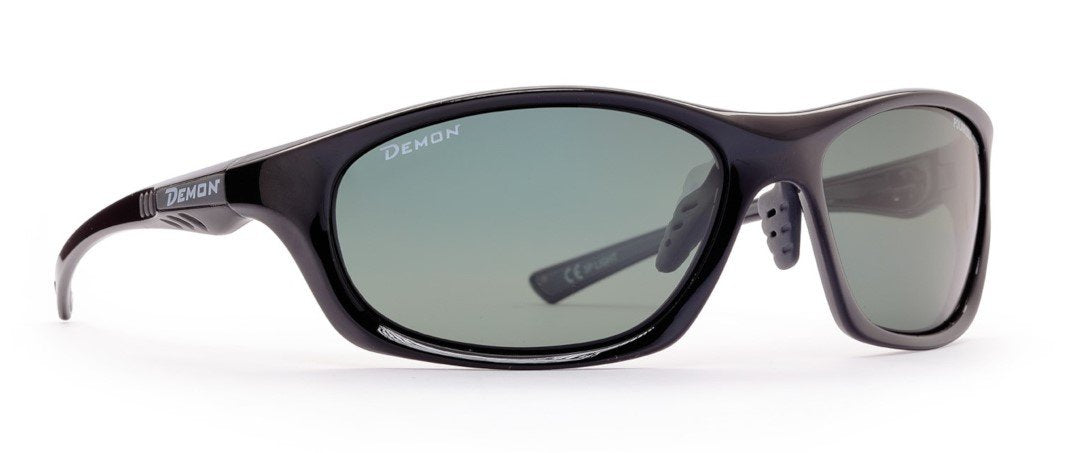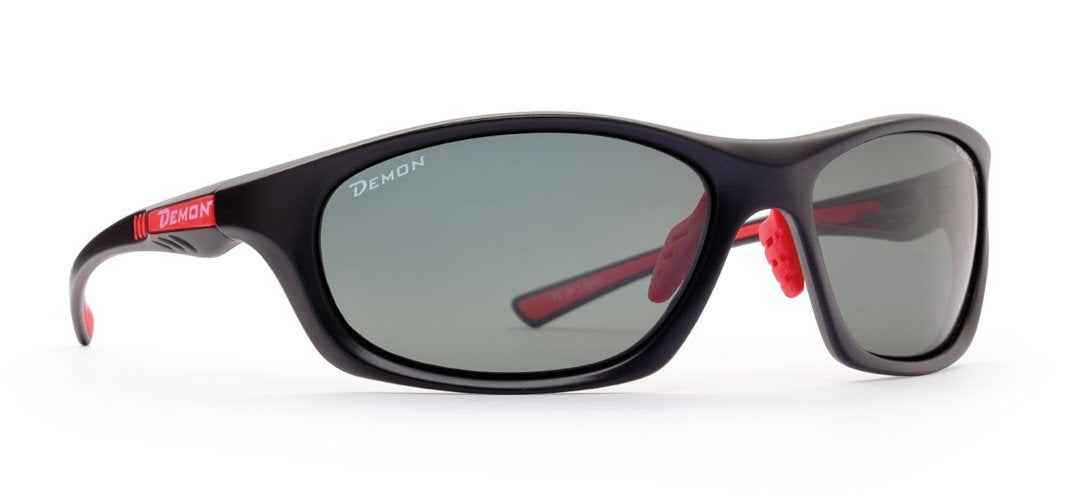 Please describeone Product
CYCLING AND MOUNTAIN BIKE GLASSES WITH ULTRALIGHT AND POLARIZED LENSES COMFORTABLE MODEL LIGHT
Light it is the model of cycling glasses but not only of the collectionone DEMON with polarized lenses. Lightness is the core of this speciale cycling glasses with polarized lenses. The frame is designed to reduce any unnecessary weight to a minimum. With his 30 grams of pure ultra-light technology, with minimal temples, adjustable nose pad and polycarbonate lensesrimto quality. The mission of DEMON is to create functional and design products to satisfy all the needs of the cyclist who never stops. Indeed LIGHT it is not just a polarized pair of glasses for road cycling and mountain biking, due to its particular shape it can be used as casual glasses. The sporty style oriented in the world of street fashion.
Disciplines of use:
Racing bike: The shape of the model polarized cycling glasses LIGHT recalls the racing bike. In fact the shape is created to form a whole with the shape of the helmet. It is ideal for the cyclist who seeks maximum protectionone from light (frontal, lateral, from above), from the air, from insects and dust. LIGHT it is therefore the right compromise between lightness, technicality and design for the cyclist who is looking for complete, safe and at the same time aesthetically aggressive glasses.
Mountain Bike: For the rider who experiences mountain biking at 360° that passes through dense forest pathsone open, specialmind in summer in very strong light conditions. LIGHT is the solutionone for the rider looking for maximum protectionone from the light but also great protectionone from the dangers of paths in the woods such as: leaves, branches and insects.
Specifications:
Le polarized lenses they filter UV rays, they are made of polycarbonaterimwith optically perfect qualities. Polycarbonate is one specialand ultra-light material that DEMON uses for all his glasses. In fact it has a significant increase in security, as it offers greater protectionone in the event of accidental impacts without breakage. Unlike glass, polycarbonate does not generate any type of fragment that could damage your eyes. Safety is paramount when playing your favorite sport. The advantages of polarized lenses I'm:
» better perceptionone of the contrast
» facesone clearer
» no modification of natural colors
The frame is in TR90a specialand compositionsone between nylon and carbon fiber. This specialand material makes the polarized cycling glasses 20% lighter than common materials, and much more resistant to accidental impacts and mechanical tractions. Made of nylon, it has great elasticity and will adapt to every facial shape, giving you a perfect fit and returning to its original state once the glasses have been removed. In fact, the TR90 makes the glasses non-deformable at high and low temperatures, with a consequent increase in durability over time.
The nose pad is made of soft hypoallergenic rubber with an aluminum core to allow adjustmentone optimal on every type of face. Always in hypoallergenic rubber inside the temples, a section has been createdone Grip to maintain an optimal fit even in the event of strong vibrations during your activity.
THEpolarized cycling glasses light it is the top model of the line DEMON of the polarized lenses category. Absolute lightness is a strong point that is impossible to give up, the excellent fit is just one of the characteristics resulting from the use of high quality materials.rimto quality. DEMON it is constantly evolvingone in the field of sports glasses to offer athletes from all over the world a highly technical product.
In endowmentsone soft microfibre case to protect from smears and clean the lenses of your glasses DEMON.
No waivers. Maximum performance always. Demonize Yourself
Width: 142mm; Height: 43mm
Rod Length: 119mm; Lens base: 8
The products are always shipped in the original packaging. For some models the color or shape of the case may differ from that shown.
Often purchased together with the product you are visualbeing