Mountain Glasses with Category 4 Lenses
List Price
Discounted price
€59,90
Unit price
per
Promo
Sold Out
Shippingone free starting from €100 (Valid only for Italy)
PAYMENTS ACCEPTED

In our online store, we offer a wide range of payment options to make your shopping convenient, safe and hassle-free. We are committed to ensuring a pleasant shopping experience for our customers, and to this end, we accept the following payment methods:

Credit and Debit Cards: We accept major credit and debit cards, including Visa, MasterCard, American Express and others. You can rest assured that your transactions will be safe and secure with advanced encryption technology.

PayPal: PayPal is one of the most trusted online payment platforms in the world. You can use your PayPal account to make payments quickly and securely.

It is also possible to select the new optionone PAYAPAL payment in 3 installments.

Klarna: Buy now, pay later at your favorite stores grazie Klarna. At the time of payment it is possible to divide the total purchase into three convenient installments.

Bank transfer: If you prefer to pay by bank transfer, we will provide you with all the banking information necessary to complete the transactionone. Remember that processing timesone may vary depending on your bank.

ATM Pay: ATM Pay is the digital service of the ATM circuit to make instant payments, transfersrimmoney and purchasing institutions – online and in store - simply, quickly and securely via smartphoneone.

Cash on delivery: We offer cash on delivery service, which means you can make payment directly to the courier upon delivery of your order. (€6,00 ​​will be charged for the cash on delivery service).

Satispay: Satispay it is one of the most used online payment platforms in Italy. You can use your account Satispay to make payments quickly and securely.

Apple Pay: Apple Pay is a mobile payment and digital wallet service developed by Apple Inc. It allows users to make payments in stores, within apps, and on websites using compatible Apple devices.

Google Pay: Google Pay is a mobile payment and digital wallet service developed by Google. It is designed to allow users to make payments securely and conveniently using their mobile devices, such as smartphonesone and smartwatch.

We ensure that all transactions occur securely and comply with data security standards. Additionally, we provide a simple and intuitive checkout process to make checkout a hassle-free experience.
SHIPMENTS AND RETURNS

SHIPPING

You ship itone it is free for amounts over €100,00
NB The standard shipping costone it is €6,90 (Express Courier)
For payment on delivery there is a €6,00 ​​cash on delivery service regardless of the amount.



All shipments to Italy are made via Express courier: UPS o SDA.
Shipping timesone depend on the geographical location of destinationone of the goods.
Generally all shipments to Italy are delivered within 24/48 hours from the time of shipmentone (excluding public holidays).

Every order received by 14.30pm is shipped the same day it is receivedone of the order. (Excluding orders with payment method: Bank Transfer, where you ship itone will take place after the payment has been credited)

For each shipmentone tracking code will be provided via email to be able to track the positionone of the package.

---

EASY EXCHANGE AND RETURN

1- You can contact us via the following channels to exercise the right to withdraw or exchange with another item: Site chat, Email Address: info@demonocchiali.it , By telephone on 0445/315537

2- Choose the formula for returning the package: You can choose whether to send the package to us independently with the courier you prefer, or at a cost of Euro 7,00 (rate valid for Italy, for foreign countries different rates will be applied based on the country) with GLS we provide collection service by appointment (Choose the day and morning/afternoon), it will be sufficient to close the box with adhesive tape and hand it over to the courier. (By agreement with the Bigline company)
* In case of product exchange, the redelivery will be €6,90 regardless of the amount of the product
**Excludedone of collections in: ZTL and Zone disadvantaged (where there will be a supplement)

3- Please wait for our receiptone for the rimbag (on the same day of receptionone, in case of return, it will be made on rimbag), or tell us the model and color with which you intend to exchange.

4- Wait for the return (in case of exchange) and have fun with the new glasses DEMON.

For more information on returns click here
HOW TO CONTACT US

Do you want to speak to one of our operators for more information or which product to choose based on your needs?

You can contact us in the way you prefer:

- By telephone: By calling the number 0445/315537
- Whatsapp: By writing to us at 0445/315537
- Instant chat: At the bottom of the page you will find the icon
PRODUCT INFORMATION
Prosthesisone UVs: UV400 (Maximum protectionone GRAPE e UV-B )
Frame Material: TR90 Ultralight
Weight: 39 grams (Elastic cord and sweat sponge included)
Frame Color: Matt Gray Blue
Type Lenses: Category 4 Mirrored Lenses
Other: Adjustable nose pad, removable sweat sponge
In Endowmentsone: Elastic cord, Hard case, Microfibre case
Sports: Mountaineering, Hiking, Ski mountaineering
Fit: Unisex (Man and Woman)
Dimensions: Width: 143mm; Height: 44mm - Rod Length: 118mm; Lens base: 8
Visualize complete details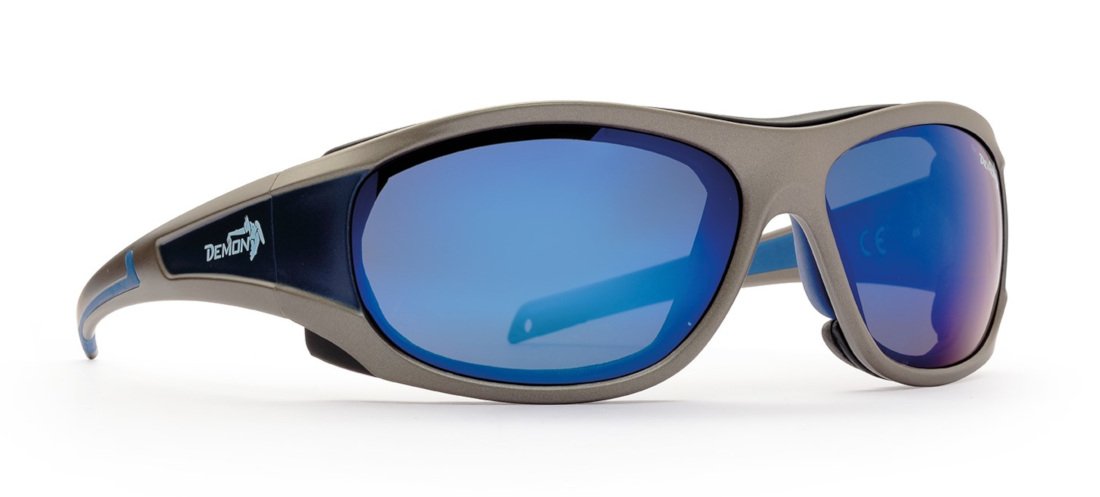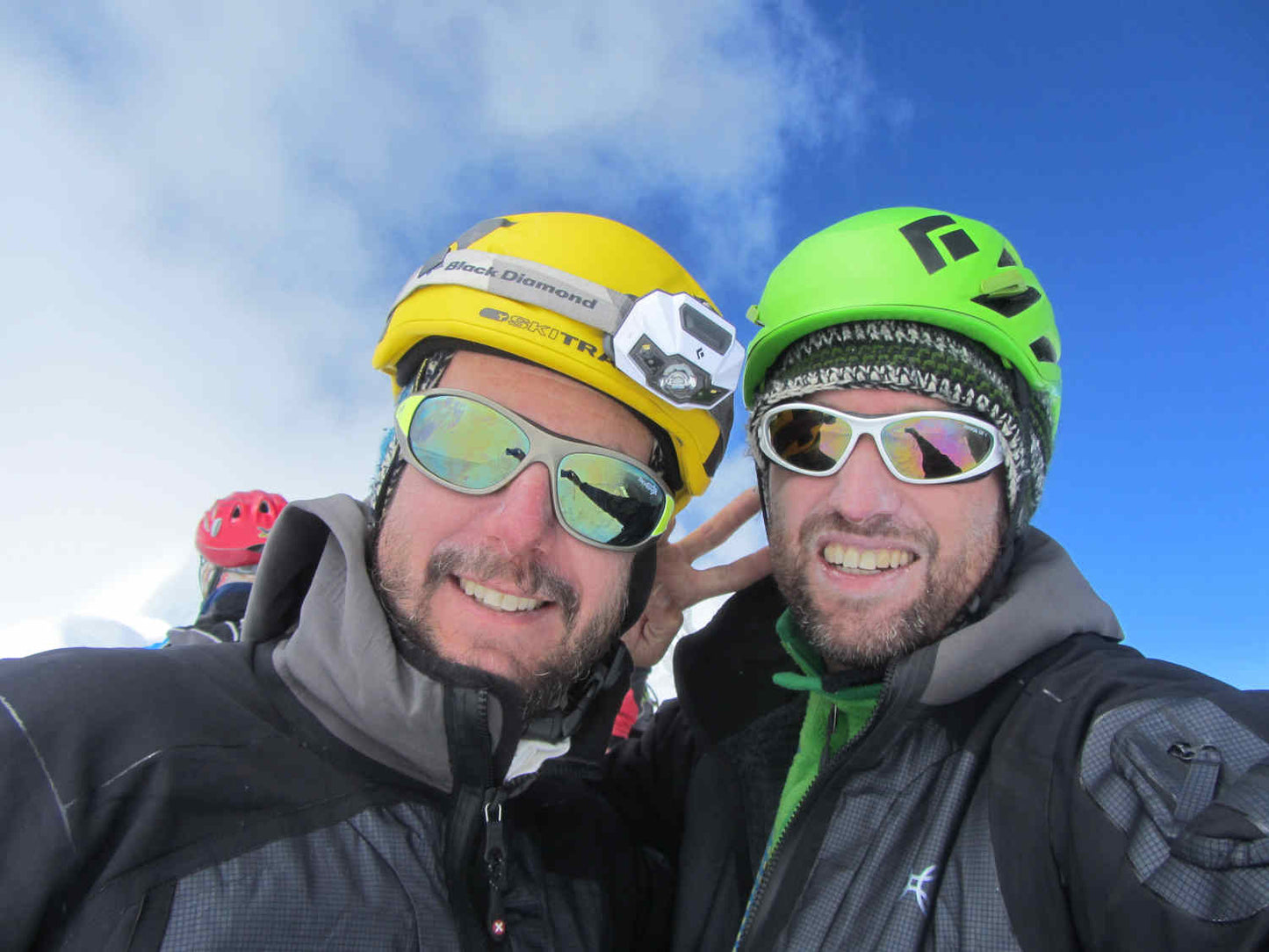 Please describeone Product
GLASSES FOR HIKING IN THE HIGH MOUNTAINS
MAKALU is the technical glacier glasses by DEMON, for excursions in very high mountains. It is well known that in the high mountains the mountaineer needs not only category 4 lenses that effectively protect from UV rays (stronger than at lower altitudes), but also from the stronger intensity of direct light and that reflected by the ice and snow. The frame must wrap around the face and prevent light from filtering from the side, top and bottom. It must also protect from the cold. MAKALU it is therefore also equipped with a sweat sponge which helps the enveloping frame to better protect the athlete's face.
Technical Characteristics and Materials:
La frame is in TR90a specialand compositionsone of Nylon and carbon fiber. This specialand material allows the mounting of the model MAKALU being 20% ​​lighter than conventional materials, more robust to mechanical traction and accidental impacts, and also allows for non-deformability at high and low temperatures. Effectively increasing durability.
Le category 4 lenses of the glacier glasses They are made of polycarbonaterimquality and optically perfect. Polycarbonate is the material that allows lenses to be lighter and safer. In fact, in the event of an accidental impact, polycarbonate, unlike glass, does not release small fragments that could damage the eye. In fact, polycarbonate is also used for protective glasses. The category 4 lens is a must for those who love the mountains. Use non-ID lensesoneand in the high mountains it leads to noticeable redness of the eyes at the end of the day, and in some cases even lacrimazione. With a forced stop of approximately 48 hours. Use id lensesoneand category 4 not only protects 100% from UV rays, but with a darker base it allows you to relax your eyes and just enjoy the ride.
La sweat sponge removable in soft neoprene, it is hypoallergenic, it prevents those annoying drops of sweat from reaching our eyes in the phases of greatest fatigue. It also prevents light from filtering laterally, generating those very annoying reflections. Furthermore, it does not effectively allow small leaves, dust, small dirt to come into contact with our eyes.
La piston ring it is adjustable, it allows you to increase the fit of the glasses and prevents those annoying micro-slides towards the tip of the nose that could happen in moments of great fatigue and sweating.one. No sacrifices, maximum performance. Demonize Yourself.
The measurements ofglacier glasses they are: Width:143mm; Height: 44mm Rod Length: 118mm; Lens Base: 8 The products are always shipped in the original packaging. For some models the color or shape of the case may differ from that shown.
Often purchased together with the product you are visualbeing